Shop it Big
Dewel Anti Flea Ticks Dog and Cat Collar 8 Months Protection
Summertime is prime time for our pets to get attacked by fleas and ticks. If your pet spends any amount of time outside during the spring and summer seasons, they are bound to deal with these plaguing issues.
As pet owners, it is up to us to appropriately protect our pets and take action to prevent fleas and ticks from leaching on to them. Once fleas take hold, they can get into our homes and it can quickly become a nightmare!
We're going to take a look at the Dewel Anti Flea and Tick Collar and give you an in-depth look. Does it work? Is it worth the money? We will cover all of these things in our Dewel Flea and Tick Collar review.
What is the Dewel Flea and Tick Collar?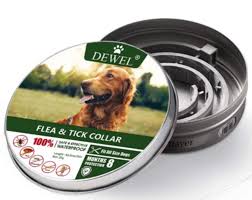 The company Dewel was formed strategically to make innovative products designed for pets. Their vision is simple. As stated by their website, it is "Absolute love for pets." You can't get much better than that for a company that is producing pet collars!
Dewel has designed collars for both cats and dogs that fight the good fight against fleas and ticks. From all accounts, the Dewel Flea and Tick collar works really well. Their products are meant to be innovative and effective without harming your pet in any way.
Dewel flea and tick collars act to prevent flea and tick infestation, simply by coming into contact with your dog or cat's skin. The collars are designed to last for a long time and can be used on your pet for up to 8 months, while still remaining effective.
We will talk later about just how this collar works but what you should know is that this collar works to stop parasites before they actually bite your pet. The collars are odorless and water-resistant. They are also super easy to put on your pet with no extra work or maintenance required.
Benefits of the Dewel Flea Collar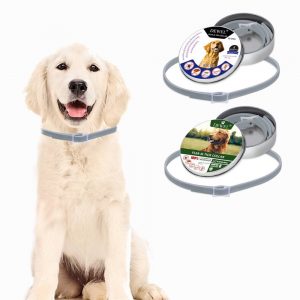 You attach the Dewel collar through a simple process using a clip that comes with it. It is very easy to use. One of the best advantages of using the Dewel flea and tick collar is that it works just as good, if not better, than those messy drops that can be a major hassle to apply.
So, you get a hassle-free collar that requires no mess to use and it remains effective for 8 months of flea and tick protection. It almost seems too good to be true! There are several benefits to this collar beyond that so let's cover them here!
Quick Action on Fleas and Ticks
The Dewel flea and tick collar get rid of fleas and other pests quickly. Once you apply the collar, it should kill any flea infestation within 24 hours. This is one of the fastest-acting collars on the market and it is effective every single time.
Long-Term
The Dewel pro-guard flea and tick collar is effective for 8 months. That means it will last through the spring and summer months without having to be replaced. Most flea and tick collars only last for 3-4 months before having to be replaced. You are getting double the time for better coverage.
Multiple Insects Be-Gone!
We keep referring to this as a flea and tick collar since that's what it is called. But the thing to know is that this collar can effectively treat against more than 100 species of insects.
There are natural oils infused in the collar that repel fleas and ticks, but also repel things like flea larvae, chewing lice, sarcoptic mange, and more. Remember, we said more than 100 species of insects are repelled by this collar. Fleas and ticks are just the most common bug the Dewel collar fights against.
Sizing of the Collar
This collar is a "one size fits all" type of collar but here is the good news. It is also adjustable to every size! You tighten it to the length of your pet's neck when you get it on. Once you get it sized according to your needs, you clip off the excess amounts and voila! You get a perfect fit, every single time.
Natural Ingredients
Here is a quick screenshot of the ingredient list for the Dewel pro-guard flea and tick collar.
All of these ingredients are derived from natural oils. The ingredients are economically-friendly. The Dewel flea and tick collar are also hypoallergenic and not likely to cause a reaction to your pet's skin. They are safe for both pets and humans.
There is a warning label that says to keep out of reach of children and to avoid contact with eyes. After the application, you should wash your hands with warm soap and water. These are typical safety recommendations for this type of product.
Warranty?
Yep, you read that line right. Dewel stands by their collars and offers a money-back guarantee. If you try this collar and you are not satisfied, for ANY reason, they will issue you a full refund. If you don't notice a reduction in fleas and ticks, you can simply return the product.
Veterinarian Recommended
This flea and tick collar from Dewel is often recommended by veterinarians. It's a fan favorite that is highly-rated across the board as far as collars go because it is effective and affordable. Many people use this product as an alternative to the Seresto Flea and Tick Collar.
Convenient
The use of this collar is simple and convenient. It's very easy to apply and cut off the extra. The challenge might be getting your pet to hold still while you get it on. From there, the flea and tick collar will not interfere with your normal collar or leash.
You can continue to use whatever your typical pet collar is. You can continue to leash up. There should be no interference from the Dewel collar. Additionally, you don't have to take your pet for monthly treatment or purchase a new collar every 3 months.
You have EIGHT MONTHS of use on this beauty!
Continually Working
Finally, in the list of benefits that we are discussing, this collar is designed to work continuously. When you place it, it continually releases the oils in the collar. This continuous release is not an effect that you will visibly notice.
The collar releases and distributes over your pet's skin and coat in a low concentration. Your pet is still safe to touch and pet as normal while wearing the collar. We do recommend that you don't handle the collar directly and if you do, you wash your hands.
How Does the Dewel Flea Collar Work?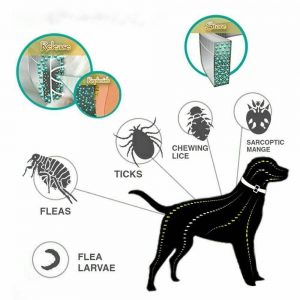 The Dewel flea collar use oils that repel fleas, ticks, and a myriad of other pests that could cause your dog illness or discomfort.
The flea and tick collar works on a continuous release process. This means, that the Dewel collar never stops working. The collar releases the oils continuously over your dog's skin and coat. The oils are released in a low concentration and will not be noticeable by touch or vision.
There are different sizes of collars and you will need to be mindful of the sizes. For starters, you will want to choose a size that is sure to be large enough but you also want to ensure that the number of oils in the collar will be effective for your pet.
If you have a small dog, we don't recommend that you purchase the extra-large collar. While you would be able to cut it to size, you don't want to risk the collar having more oils than the dog should receive.
Now, if you have a medium dog and buy large, it probably won't matter but we recommend that you try to stay as close to the necessary size as possible.
The Dewel flea and tick collar is a vet-quality flea and tick treatment that not only kills fleas or pests that are already present but also works to prevent infestation of pests. The collar will stop an infestation before it even begins and beat any infestation you are already fighting.
The collar is effective for up to 8 continuous months of use, which makes it well worth the cost for the collar. It's affordable, far more so than the cost of other treatment options.
Finally, the collar is also water-proof so you can leave it on for bath time!
Type: Collars
Collar Type: Head Collars
Material: Plastic
Season: All seasons
Protective time: 8 moths
Specific: Waterproof collar 
Expiration Date (If always sealed ): 2 years
Dog Style: About 63.5 cm
Cat Style: About 33 cm
Sharintexas 5.0 out of 5 stars Handy Little Device Reviewed in the United States on June 8, 2020 Color: Pink Verified Purchase/ I received this item on time and packaged well. My feet showed improvement after just one use. I did fully charge the foot scrubber without issue. I would buy again if necessary and would recommend to others.

Sharin Texas
Wency Elaine  5.0 out of 5 stars Best Rasp EverReviewed in the United States on June 15, 2020 Color: Mr-2205PR/ When I first opened the box and saw the rasp I was disappointed in the size. Was I wrong! This is the best little foot rasp ever. I wouldn't want it any bigger. I used my rasp in the morning, what a huge difference in my feet. After one treatment, the difference in my skin on my feet is amazing. The other tools in my pedicure basket are in the trash. This is the best little rasp ever!

Wency Elaine
Jennifer Kwakye 5.0 out of 5 stars Works like magic Reviewed in the United States on March 18, 2020 Color: Pink Verified Purchase Opened a box and used on my heels. OMG! This works like magic. My heels are really smooth and it's amazing. Thank you for this product

Jennifer Kwakye